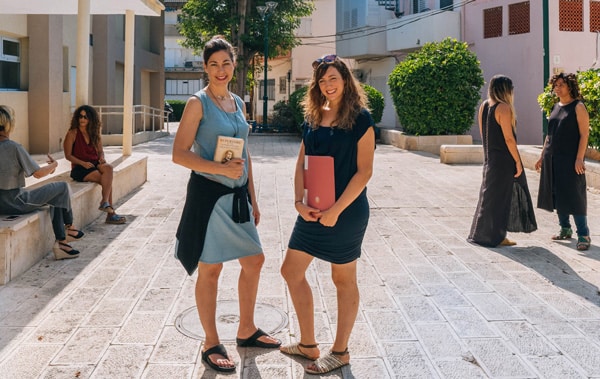 The story of VITAL
Vital is a homeopathy knowledge hub, a community clinic and a School for Classic Homeopathy. Founded by Dr. Rina Markovits, the school has been training homeopaths since 1997.
Vital's activity is situated at Beit Dani Community Center in Tel Aviv. That's where the classes are, right next to the community homeopathic clinic. 
The Vital knowledge and enrichment center features lectures and workshops for the general public as well as courses for practitioners of various disciplines.
The School for Classical Homeopathy was founded by a team of senior homeopathic lecturers and practitioners, headed by Dr. Rina Markovits. The school's guiding vision has been to bring about integrative medicine, combining homeopathic medicine, Western medicine, Nutrition and personal growth. A 4-year academic curriculum has been developed in order to facilitate this vision, featuring a program weaving together extensive know-how derived from the practice of wellness therapy.
Vital – Programs and courses 
Classic Homeopathy is a highly dynamic field, which we believe is capable of both impacting and being beneficially impacted when it comes to various private and public healing practices and methods worldwide. Likewise, Vital offers a dynamic curriculum. At the very heart of our program, we feature Classical Homeopathy, as it has been studied throughout the past 220 years. In addition, we incorporate advanced methods developed by pioneering classical homeopaths over the past 30 years.
All this makes for the world's most advanced and extensive academic program, not only in Israel, a curriculum that trains our graduates in becoming active classical homeopathic practitioners. 
At Vital, every participant is able to study as well keep their day joy while maintaining a family life and a personal life.
Charity Clinic
The Vital School for Classic Homeopathy features a homeopathic charity clinic within Beit Dani Community Center for the benefit of the local residents, at a truly affordable fee for everyone. The clinic offers anyone the opportunity to improve his or her health by following a natural and safe course. This constitutes our contribution to their own personal well-being.
Each and every resident of Tel Aviv is welcome to seize the chance to improve their personal health and wellness at the cost of a mere 90 NIS per private homeopathic session at the highest level.
The clinical staff comprises homeopaths who have graduated a 4-year program and are just beginning their professional career.
Online Program for Hebrew Speakers Overseas
Israeli? Learn Homeopathy Abroad In Hebrew!
Living overseas? Wanna earn new skills and launch your own career?
The School for Classical Homeopathy is your next stop!
We are on the lookout for serious, mature students from Israel, who speak Hebrew and live outside Israel.
Especially for you! A Unique 3-year Program
We set up an online program in Hebrew, complete with a user-friendly Internet interface, to pave a way for you to benefit from the gift of homeopathic healing.
Your curriculum features video recordings of classes, lectures, guest sessions and webinar meetings, affording you a highly enriching and developing learning experience in your own speed.